IN MY BEAUTY, FASHION AND CULTURE'S MOST COMPELLING FACES REVEAL IN THEIR OWN WORDS WHAT BEAUTY MEANS TO THEM
At 6'2, Mykki Blanco makes quite an impression, especially when he's in full drag and freestyling on the street corners of New York City, as he memorably did in an early video diary. A fearless stage performer, Mykki Blanco came to attention in the early 2010s with ferocious, confrontational club tracks and a series of music videos and fashion shoots that foregrounded his sexuality and gender fluidity at a time, as he explains, before queer rap, gay rights and the trans movement had become more widely accepted – "I realize I am a pioneer," he adds.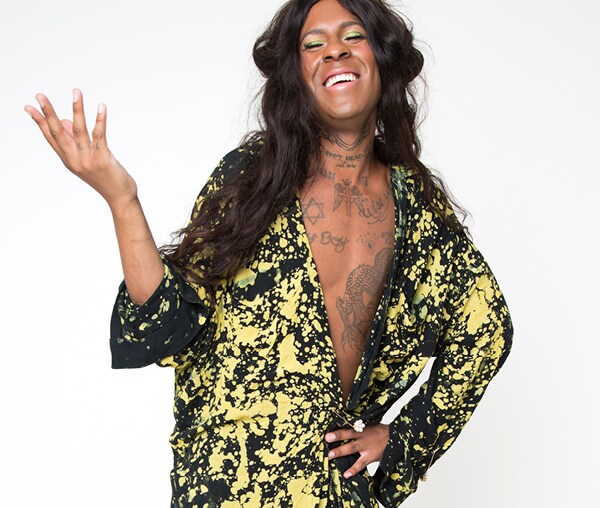 Now identifying as a gay man, last year's fabulous debut album Mykki is his most open, honest and personal work to date, discussing everything from his romantic life to coming out in 2015 as HIV positive – Mykki being Mykki, though, it still has its fair share of club bangers.
"The world isn't the same world as it was five years ago. So many things people used to find extremely taboo about me as an artist have become much more mainstream. Drag queen culture, gay marriage became legal in America… we've had this very public transgender dialogue, and all the cross-dressing and playing with gender. It's like, even though we had instances of that in music culture with people like Prince or Bowie, for some reason it just seemed so alien when I did it."
"So many things people used to find extremely taboo about me as an artist have become much more mainstream."
"It was so shocking because it was rap, and I was rapping and it WASN'T a joke – I was an actually good rapper. I think at that time in 2012, people were just like either 'this is awesome', or 'no, fuck this, this is crazy'. In the beginning, I had some songs that were really popular, and – had I been a straight rapper – would have gone on the radio and could have charted. When I think about that, it does annoy me because how different would it be if I'd come out with my first song this year, after the world's kind of gotten over itself? At the same time, though, I do realize I am a pioneer."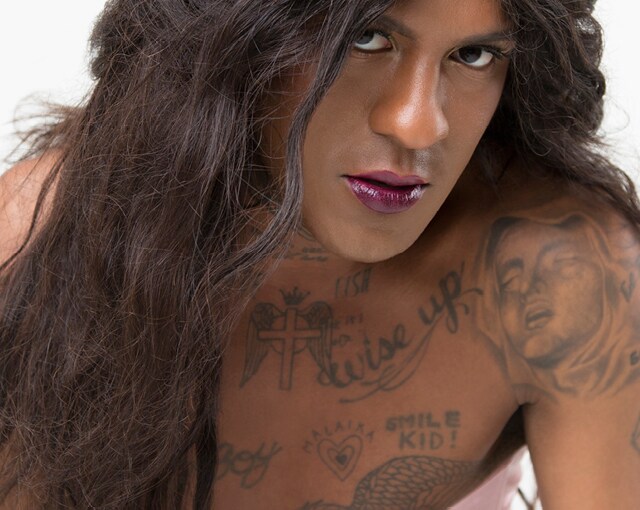 "In 2010 and 2011, I was going through a sexual exploration of myself and I was trans-identified. I identify as a gay man now, but at that time I was still exploring my sexuality and gender fluidity. Fashion created a great avenue to do that. Then, when I settled into the idea of 'ok, I guess maybe I am more of a gay man than trans-identified', one of the things I really wanted to do with Mykki Blanco was to not just have it be this drag aesthetic, but be really unconventional and far out – really theatrical."
"I think when people embrace their body type, that's really beautiful. I really do think eyes are beautiful, and what you can do to your eyes cosmetically is one of the strongest things you can alter about yourself. Most of the times I've done makeup on fashion shoots, it's usually how someone alters my eyes that will feminize my face. Lashes are big things for me. I'm all about a lash!"
"I really do think eyes are beautiful, and what you can do to your eyes cosmetically is one of the strongest things you can alter about yourself…Lashes are big things for me. I'm all about a lash!"
"When I was a teenager, my first persona was really inspired by Riot Grrl, really punky. Her name was Solnichya. I had these thick 50s black glasses, and a bleach blonde mohawk, and I would go to thrift stores and get women's petite sweaters, and cut them into crop tops. I glued fake hair with a hot glue gun to the top of my forehead! It was one of the dumbest things I ever did. I remember my mom almost died. I wasn't allowed to dye my hair until I was 16, and one time I actually put Clorox bleach in my hair, thinking that would bleach it – I'll never forget how painful it was."
"This election has made me realize how much of a priority certain things I plan to do in my community are going to be. I've always said is, when I start to feel I've succeeded in what I'm doing, I want to buy land. In a couple of states, there are queer communes that provide refuge for people that have to do sex work, or people living on the street. These are secret places where people bought plots of land, and people can build little houses. I want to start this organic farm people can run – we could have a general store, maybe a bed and breakfast. I just have this idea of creating a queer infrastructure that works for queer people, and creating revenue streams within that. That's one of my dreams."
"When I came out as HIV positive in 2015… I was so depressed, I thought this was all going to be over. And in many ways, the exact opposite happened."
"When I came out as HIV positive in 2015, I was so worried it would ruin my career that I was looking to go back to school for journalism. I was so depressed, I thought this was all going to be over. And in many ways, the exact opposite happened – I call it the Kardashian effect! Like, in this day and age, the more people know something really personal about you, the more they feel connected to you. It makes complete sense when you talk about it out loud, but that's not how you think about your own self."
  
"Since coming out as positive, I've been able to approach people, and people have been able to approach me romantically in a way that allows there to be no secrecy, no hiding in the shadows. This is who I am. And I know I have a public profile and that gives me a lot more privileges than the thousands and millions of positive people who can't announce to the world they're positive, so they still have to meet people and explain themselves and do that whole thing. I know I'm privileged in that respect, but at the same time I honestly did it for love."
Mykki by Mykki Blanco is out now